The past and present of a Florida made of fantasy and reality
A book delves into the contradictions of the stereotypical southern state by Walker Evans and Anastasia Samoylova, two long-distance authors who delve into the idiosyncrasies of the place.
Deep America in the photography of Anastasia Samoylova
The Madrid gallery Sabrina Amrani inaugurates the photography exhibition 'Floridas'. Images of the south of the United States that once again question the economic crisis and racial divisions, under the indifferent gaze of politics.
'Floridas'. Anastasia Samoylova. 19 Jan – 19 Mar 2022
You can now virtually visit Anastasia Samoylova's last show at our gallery in calle Madera. Check here the complete show in 3D!
Floridas Book launch and Conversation with Anastasia Samoylova and Victoria del Val
Climate Change as You've Never Seen It Before: "FloodZone" by Anastasia Samoylova | VOGUE
Russian-American artist Anastasia Samoylova documents the aftermath of rising sea levels in South Florida, challenging the way we think about climate change. The project is now on show at the Chrysler Museum of Art, Virginia, until May 29, 2022.
Art Basel Miami Beach Returns, Smaller but Ready to Party | The New York Times
Anastasia Samoylova's "FloodZone" photos at the HistoryMiami museum capture an often surreal visual interplay of flora, fauna and crumbling concrete.
A Photographer's Quiet Reflections on Climate Change | Hyperallergic
Floodzone, an ongoing series by Anastasia Samoylova, stirringly acknowledges that the climate crisis is already upon us, however earnestly we might resist this fact.
'It's a slow catastrophe': artist try to tackle the dangers of rising sea levels | The Guardian
Don't Look Up zooms out on a stellar scale; FloodZone: Photographs by Anastasia Samoylova zooms in to hyperlocal effects of sea level rise, tidal flooding and shoreline erosion in Florida. But the exhibition – at the Chrysler Museum of Art in Norfolk, Virginia – takes aim at the same human flaw of cognitive dissonance.
Anastasia Samoylova winner of the "KBr Photo Award" of Fundación MAPFRE
The jury of the first edition of the "KBrPhoto Award" has unanimously decided to award the prize to Anastasia Samoylova and her project Images Cities, for the quality and originality of her work.
"FloodZone". Anastasia Samoylova. 3 Feb - 3 Apr 2021
You can now virtually visit Anastasia Samoylova's show at our gallery in calle Madera. Check here the complete show in 3D!
Anastasia Samoylova The History Miami Museum
FloodZone is an exhibition of an expansive and ongoing photographic series by Anastasia Samoylova, responding to the environmental changes in coastal cities of South Florida. By playing self-consciously with the familiar motifs and palette of the region, the photographs work as complex allegories. There are aerial photographs of the saturated topography; portraits of locals; and close-up observations of buildings, flora, and fauna. Samoylova's images provide a broad yet acute perspective on what it feels like to live in at-risk areas while economic forces instill a sense of denial and disavowal.
Grand Canyons at the façade of Musée des beaux-arts Le Locle
The MBAL invited the Russian-born artist Anastasia Samoylova to create a new installation for the museum's facade. Her mural piece evokes the Grand Canyon against the backdrop of climate change. For several years the artist, who now lives in the United States, has been creating monumental installations in parallel with her practice as a documentary photographer. Grand Canyons, created in 2021, is part of the Landscape Sublime series begun in 2013. In the series the artist explores the way in which images from social networks respond to popular pictorial motifs and illustrate a certain idea of nature and environment. To create her collages, Samoylova collects royalty-free images from the Internet and re-photographs them in the form of cubist paintings.
'My goal is to dismantle stereotypes' I Interview with Photographer Anastasia Samoylova
Born in Moscow in 1984, Anastasia Samoylova moves between observational photography, studio practice and installation. She has exhibited at the Aperture Foundation, New York; the Griffin Museum of Photography, Boston; and at festivals in Brazil, Belgium, France, Holland, China, South Korea and Germany. Samoylova has published her work in Smithsonian Magazine, FOAM, Art Press, Monocle and Bloomberg Businessweek.
Anastasia Samoylova: "Never take a realistic looking depiction at face value"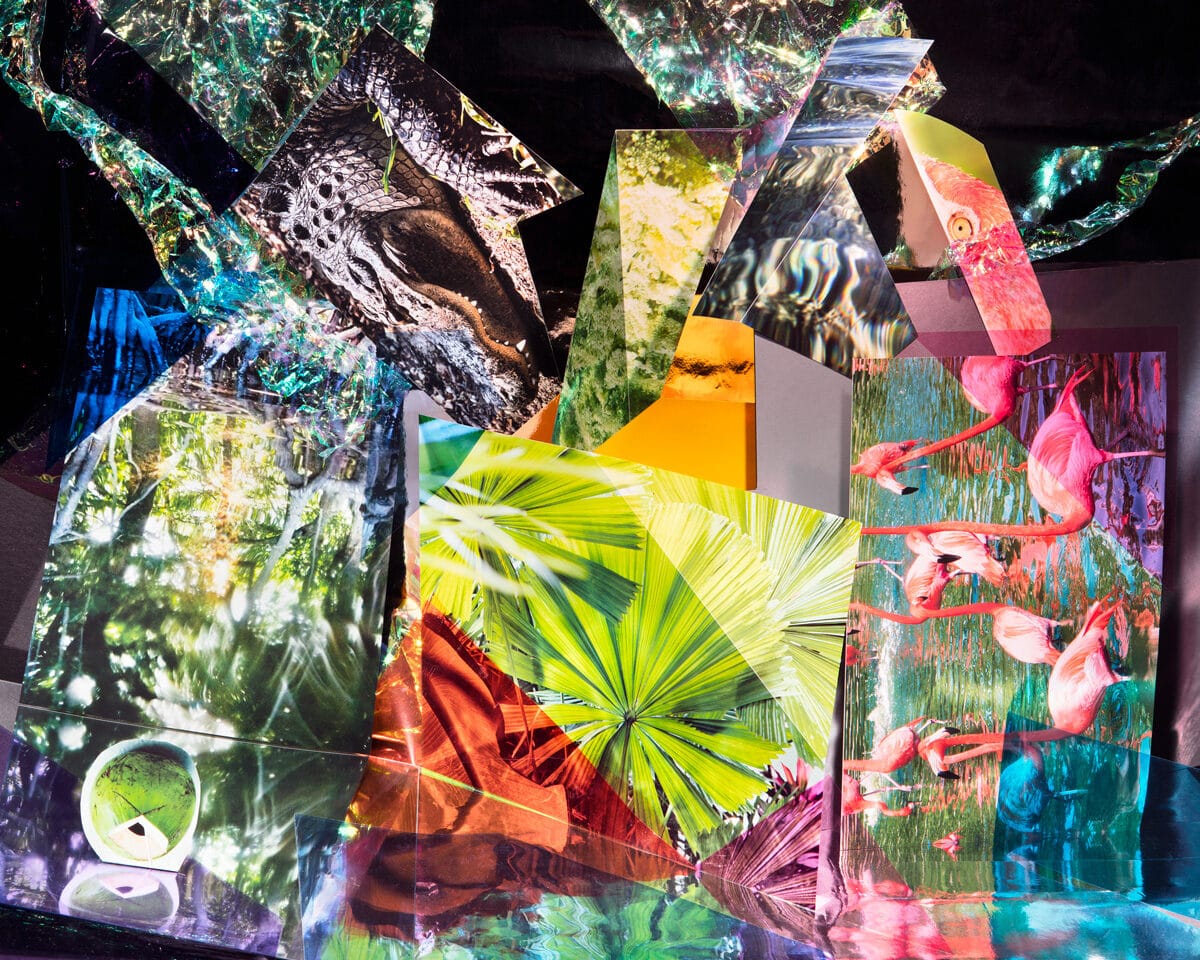 I was originally trained in environmental design and painting and only came to photography later. My main influences are the "Amazons" of the Russian Avant-Garde: Alexandra Exter, Natalia Goncharova, Liubov Popova, Olga Rozanova, Varvara Stepanova, and Nadezhda Udaltsova. About a year into working on Landscape Sublime I realised how my cubist compositions were really a contemporary version of constructivism, the semi-abstract kaleidoscopic tableau reflective of the time as tumultuous as it was during those artists' lives.
Anastasia Samoylova in The Washington Post
One of the first things Samoylova began to notice was the dissonance between the city's booming real estate market and the reality of the ocean's rising water levels, making their way toward the very places being developed. These photos explore how rising sea levels are affecting Miami.
The New Yorker reviews "Floodzone" by Anastasia Samoylova
When a hurricane approaches, the air tingles. The sea does strange things. In minutes, the sky can turn from azure blue to slate gray. Turbulence comes out of nowhere. You can picture what follows, and many photographers do, but you will find no images of catastrophe in Anastasia Samoylova's "FloodZone."
Trouble in Paradise: a studio visit with Anastasia Samoylova
Anastasia Samoylova's seductive and lyrical images exploit a tension between the image of Florida as a glamorous tropical paradise and the ominous reality of a state threatened by rising sea levels and ever more frequent hurricanes. Her layered photographs focus on the small but significant details of life in an urban environment experiencing profound climatic changes.
British Journal of Photography: Miami's climate crisis
"The land is becoming increasingly unstable. Profound changes are already happening, and there are more to come," says Samoylova, referencing the rising sea levels, hurricanes and major storm surges affecting the area.
Federica Chiocchetti Interviews Anastasia Samoylova. Paris Photo 2019
Federica Chiocchetti interviews Anastasia Samoylova in the context of Artist Talks program at Paris Photo 2019
Miami Herald Podcast: 'FloodZone' Captures South Florida's 'Climate Anxiety' In Unexpected Ways
Since 2016, Russian-American photographer Anastasia Samoylova has been capturing images of sea-level rise in South Florida in quiet — and often surprising — ways. Instead of whipping winds, she might capture a nest of an absent animal's eggs, just barely hanging over the water level of a canal. Rather than a destroyed home, a snapshot of a car; one window reflecting an adjacent green lawn while the windshield sun visor shows the image of breaking waves.